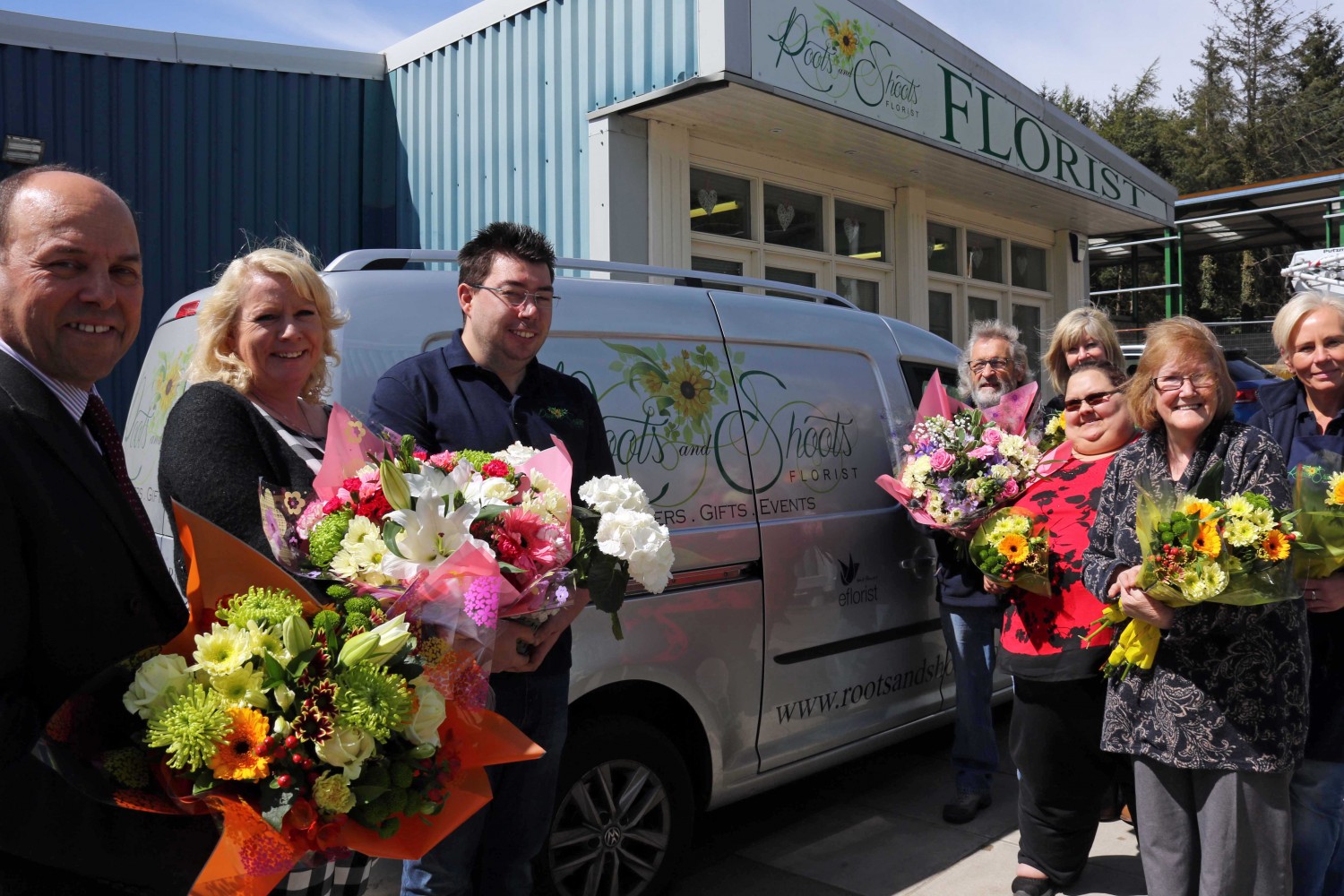 Date posted: 11th May 2018
Business is blooming for a couple who are full of ideas to make their first flower shop flourish.
William and Lizzie Gardner have bought Roots and Shoots, in Richmond, from its founders who have retired after running it for 35 years.
William, 29, has followed his dream since starting his career at Ravensworth Nurseries straight from school. "I saw a floristry demonstration and was just instantly hooked," he said.
He then went on to study floristy and horticulture at Houghall College, Durham, and is now training to carry out floristry demonstrations for the National Association of Flower Arranging Societies (NAFAS), as well as being vice chairman of Anthea Flower Club, in Richmond.
William had done work experience at Roots and Shoots, which is on the Gallowfields Trading Estate. When the owners, Angela and Norman Bell, announced they were planning to retire and the shop might close, he and Lizzie, 34, decided they could not miss the opportunity to own their own business.
They called on business advice experts, Karolyn Scott from BHP Law and Tony Luckett, of Clive Owen LLP, in Darlington.
Karolyn explained: "When a client is buying their first business, it's important to keep everything as clear, open and understandable as possible so they feel in control. It is a big step to take and we worked closely with the vendors as well to ensure they understood everything.
"We had to put a new lease in place and we also worked on post-completion issues like employment contracts, so everything was in place for William and Lizzie going forward."
Tony added: "Will and Lizzie have put a lot of time and effort into the project so it is good to see it paying off. We helped make it a smoother transition with the help of our tax advice and business support which included banking arrangements, payroll and accountancy functions."
William said: "The support of BHP Law and Clive Owen has been really good at an exciting but daunting time."
He did his own research and designed a re-brand for the business, introducing a new logo and branded workwear, sourcing a new van and refurbishing the shop. Two current members of staff, Debra Redfern and Katrina George, have remained with the business.
Already an integral part of Richmond's business community, working with local funeral directors Blenkiron & Sons and Simon Barningham, of Reeth, Roots and Shoots have been involved in St Mary's Church flower festival and the Tour de Yorkshire, and hope to take part in future community events.
William added: "We're really looking forward to playing our part in the local community and helping out where we can."
---