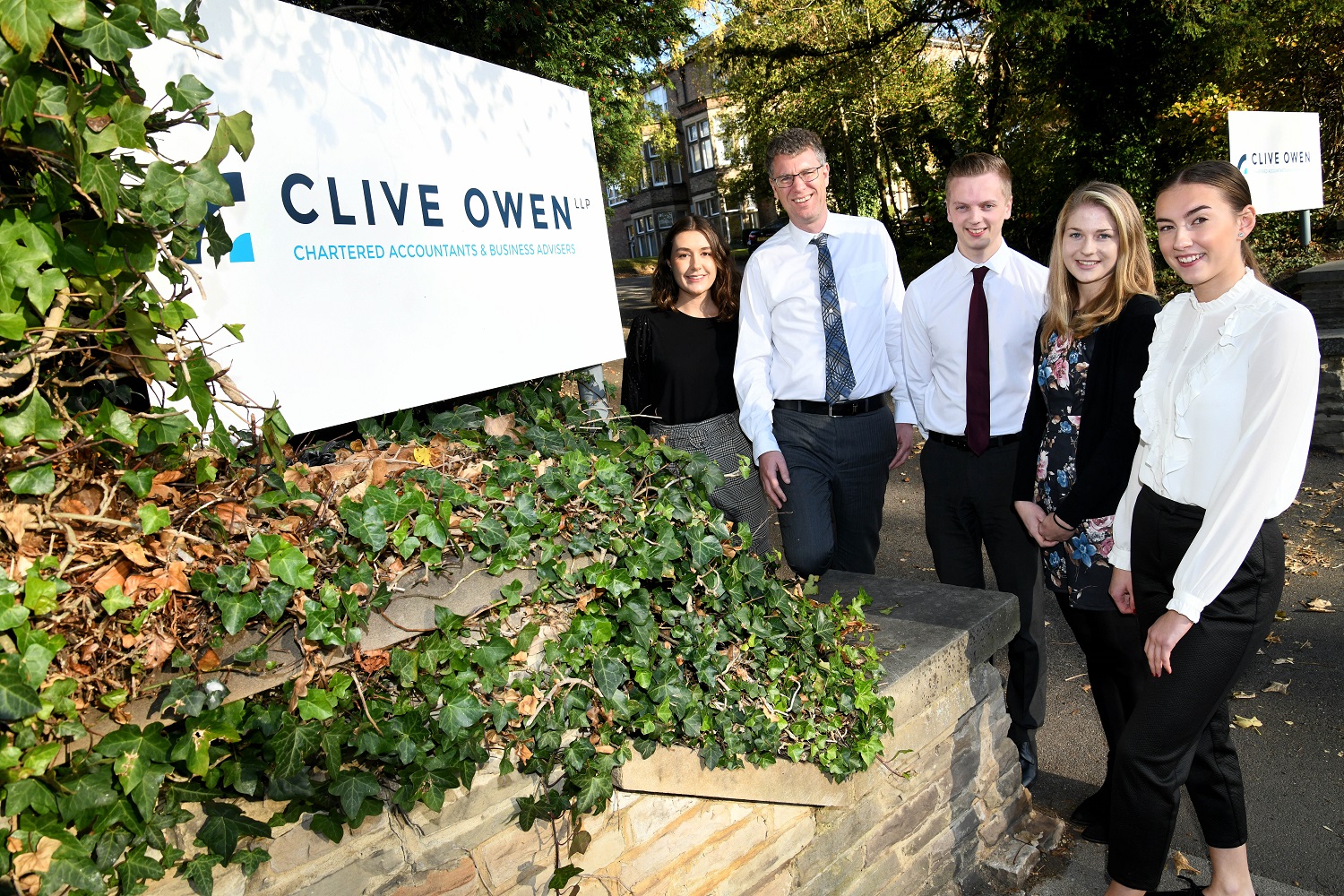 Date posted: 12th Nov 2018
Clive Owen LLP has appointed four new trainees at its Darlington office as it prepares for future growth.
The local young people will have the opportunity to gain skills, qualifications and experience while earning a salary. During a three-year training contract, three of the trainees will receive full study support for the prestigious ACA qualification with the ICAEW.  Paige Robson, who only recently completed her A-Levels, will work towards AAT Level 3 and 4 before embarking on the ACA training.
The ACA qualification includes undertaking 15 accountancy, finance and business modules, practical work experience, professional development and ethics and professional skepticism.
Elizabeth Rae (21) from Saltburn who studied accounting and finance at Teesside University and Oliver Bainbridge (22) from Newton Aycliffe who studied for the Association of Accounting Technicians (AAT) qualification at Darlington's QE College will be joined by 22-year-old Lydia Dawes from Richmond who studied Maths at Newcastle University and Bishop Auckland-based Paige, 18, who attended Wolsingham 6th Form.
A number of Clive Owen's current team began as trainees at the firm, including Simon Hook who is now one of the partners at the Durham office.
Clive Owen LLP was recognised for its excellence with the accolade of Accountancy Firm of the Year (51 – 200 employees) at the prestigious North East Accountancy Wards 2018.  The firm has grown significantly over its 35-year history since Clive Owen himself founded the firm, working with a broad range of businesses across North East and Yorkshire offering a range of specialised services.
Tony Luckett, managing partner at Clive Owen LLP, said: "We are absolutely delighted to welcome our new recruits, who are taking the first steps on the accountancy career ladder.
"Taking on trainees is a direct investment in the future development of our workforce and it's a fantastic way to support local, talented individuals who are keen to start their careers.
"Professional firms in towns like Darlington can offer a high quality of work and training, with the added benefit of a less-stressed lifestyle and more affordable property prices.
"We believe we have recruited four young people who will be an asset to the firm, proving that the town can compete with the bigger cities of Leeds or Newcastle in terms of training and retaining the best people."
Paige Robson said: "I'm delighted to have joined an award-winning accountancy firm.
"I know that Clive Owen will offer me opportunities in the future to grow my career and I can't wait to start working towards my qualifications."
---