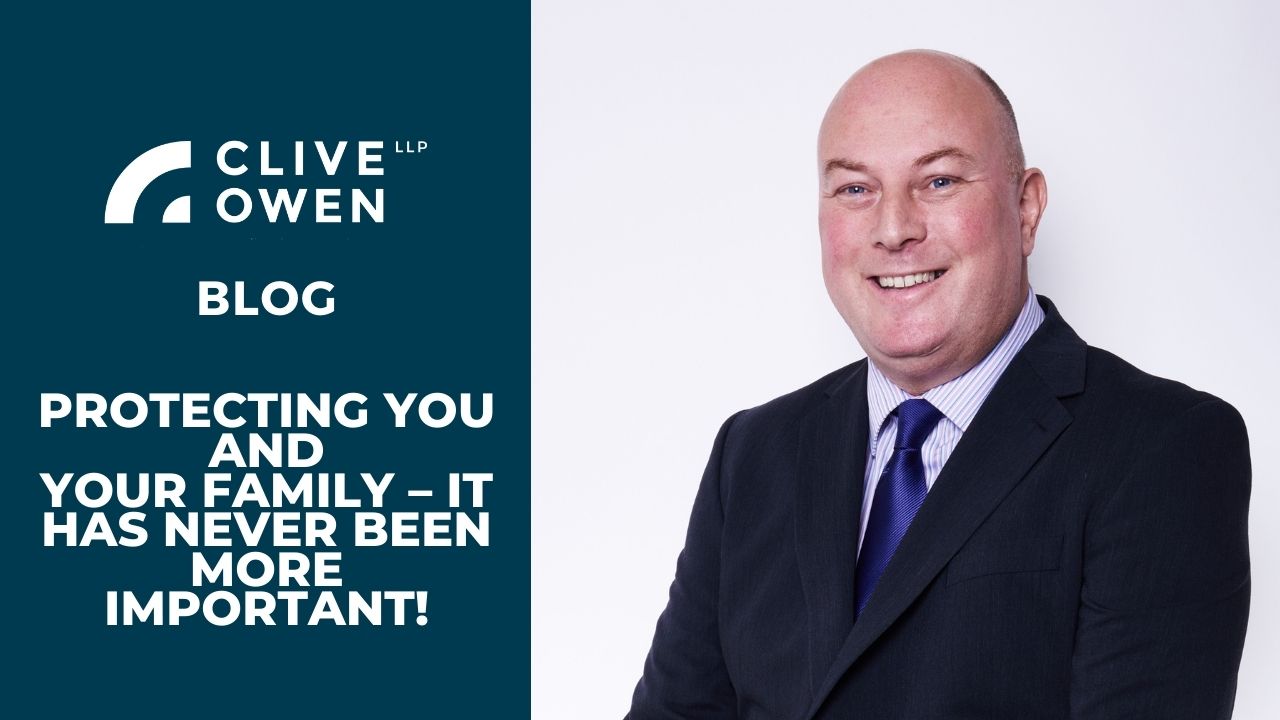 Date posted: 13th Oct 2020
I think we can all agree, since we toasted in the New Year, 2020 has probably not gone the way that we had anticipated or hoped. Living through a global pandemic certainly wasn't one of my resolutions; the previous 6-months have been challenging, and it seems like restrictions will continue to be in place for at least a further 6-months. Luckily I am well stocked with toilet roll and pasta, so should be ok.
Despite the pandemic, I have been fortunate to be able to continue to work, and provide financial planning services, and I am certainly getting more adept at holding Zoom meetings. I am finding that the pandemic has made many view their own mortality, with the realisation that illness or death can affect anyone of us.
I am seeing that many clients are taking this opportunity to put in place or review their life insurance, critical illness and income protection policies, as they seek to protect themselves and their loved ones from financial hardship, should the worst befall us.
In my opinion, protecting your life and income should be the foundation of any effective financial plan. However, I have previously found that many didn't feel that this type of cover was required, as "I don't get ill", "I'll be ok" or "I'll review it later…." or that they felt they already had adequate cover in place. Indeed, we are all happy to insure our cars, homes, large screen TVs but, we don't insure the most valuable commodity; ourselves! This year has changed many peoples' views, and life cover and income protection are now viewed as priorities.
So why is protection so important? As I have previously highlighted, events of late have shown us that we aren't invincible, and I would encourage you to try the risk reality calculator provided by LV, to see how you could be affected by catastrophe (https://riskreality.co.uk/gen). You might find the outcomes surprising, I certainly did, as the below illustrates the position for me and my wife up to our state pension ages: –
52% risk of being unable to work for two months or more.
24% risk of suffering a serious illness.
10% risk of death.
60% likelihood of any of the above happening.
As someone who has already had two spinal operations, the risk of being unable to work is a high risk, and income protection is extremely important for me and my family. Thankfully, I had prior cover in place as, if I hadn't, there is the chance that I couldn't get effective cover. Therefore, deferring putting in place life or income protection cover does have risks, especially as the costs increase as you get older, and health conditions could prevent you from being accepted for cover. In reality, when you realise you need it, it's often too late to do anything about it.
I would encourage you to take immediate action, in respect of your protection needs, and consider how your family would cope without you or your income being there. The key message is that everyone should have financial protection in place, to cover you and your loved ones against the worst case scenarios: –
Insuring against losing your home in the event of death or critical illness.
Ensuring you can provide for your families if you can't work due to injury or sickness.
Thankfully, despite the Covid-19 pandemic, insurance providers are continuing to offer life, critical illness and income protection cover. Furthermore, we aren't seeing a Covid-19 premium being added to the cost of cover, with costs remaining in line with pre-pandemic levels, although this might not continue to be the case moving forward. One difference that we are seeing is that, as part of the underwriting process, additional questions have been added to the application process around testing positive for Covid-19.
In summary, protecting your life and incomes has always been important, but the events of 2020 have made us all realise just how important this actually is. If you haven't already done so, please review the cover that you have in place, or if you don't have any, please look at addressing this urgently. The best case scenario is that you'll never need to claim against one of these policies, but in the worst case scenario, well, let's just say you/your loved ones will be thankful you addressed it when you did…
There are various types of protection options available, and I encourage you to seek advice in relation to these, and I would be very happy to discuss your needs in greater detail. You should bear in mind that an insurance policy will end if you do not make payments and there will be no cash value unless a valid claim is made.
If you have any questions at all, just email us here or give us a call.
---