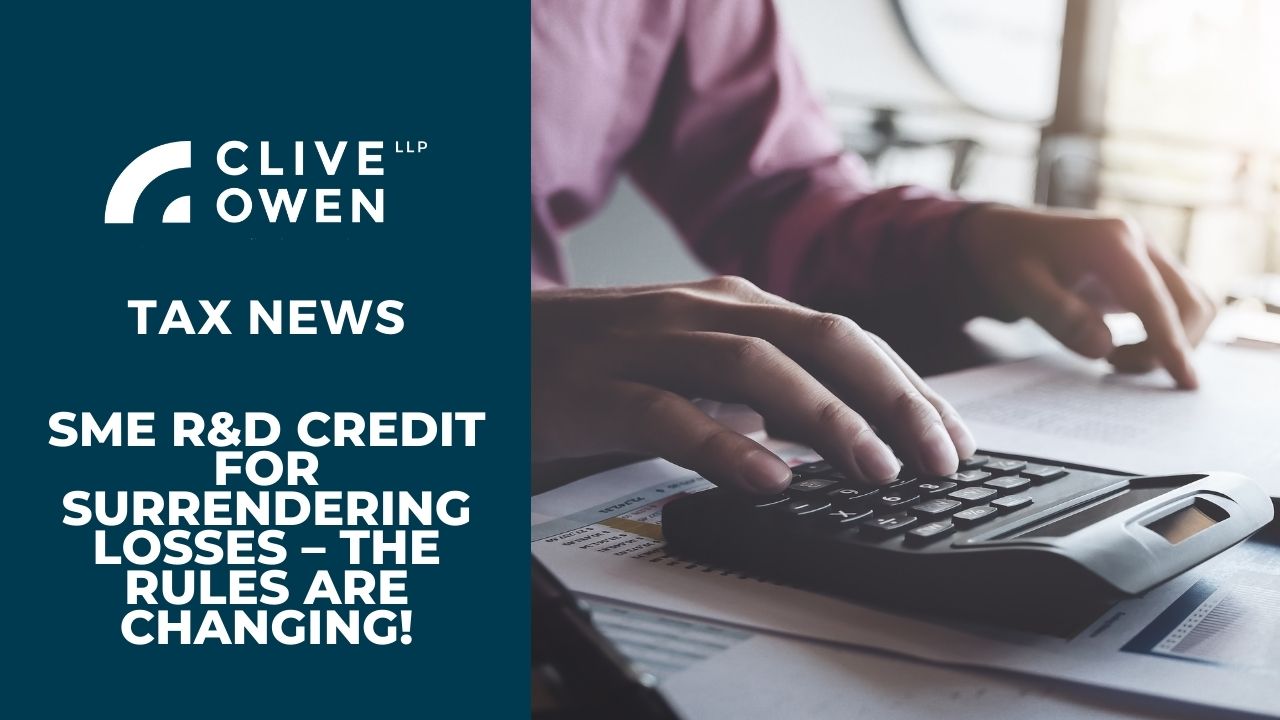 Date posted: 11th Jan 2021
R&D tax relief is a very valuable tax relief for companies making profits and losses.
For those SME companies making profits, they can reduce their taxable profits by a further 130% of the qualifying R&D expenditure that has been relieved in the profit and loss account of the company, thus giving them a 230% deduction for R&D expenditure.
For those companies making losses, they have the option of "cashing in" tax adjusted losses and receive a "tax refund" from HM Revenue & Customs ("HMRC").
Say that again?
Yes, currently a SME loss-making company carrying out R&D activities can surrender losses to HMRC in return for a repayable R&D tax credit. This could prove to be a valuable cashflow boost, particularly given the current COVID-19 pandemic is impacting on finances.
Example
To give an example, currently, a company with R&D qualifying expenditure of say £100,000, could potentially surrender up to £230,000 of losses and receive a 14.5% tax credit from HMRC of £33,350.
Currently, this is the maximum SME tax credit the company could claim and depending upon the company's circumstances, it could actually be lower, as it is necessary to consider the company's tax adjusted loss position including the 130% additional relief for the R&D expenditure.
What's changing?
However, for accounting periods that start on or after 1 April 2021, there will be a further test introduced, which may potentially restrict the repayable tax credit.
Firstly, it is important to state that you do not need to consider the cap where the repayable R&D credit is less than £20,000. Thereafter, the new rules will mean that it will be necessary to consider whether the credit is more than the total of £20,000 plus 300% of the total PAYE and NIC paid to HMRC by the company (and potentially related parties), for the accounting year.
So continuing the above example, assuming that the company paid over to HMRC, PAYE and NIC of £2,000, the payable tax credit would be restricted to £26,000, being £20,000 plus 300% of £2,000.
This means that there will be unused losses at the end of the accounting period but any losses not surrendered can be carried forward, in the usual manner.
BUT….
…….if there is an element of intellectual property management, creation or intended creation AND less than 15% of your R&D expenditure relates to "externally provided workers" costs, then the new cap is ignored.
Don't worry if you are confused by the different calculations – we are experts in R&D tax relief and this cap will be considered on behalf of our clients.
If you are not already a client but would like to know more about R&D tax relief and the qualifying conditions, then please contact one of our corporate tax experts here.
Read more articles from our January 2021 tax news below:
Read more below:
---