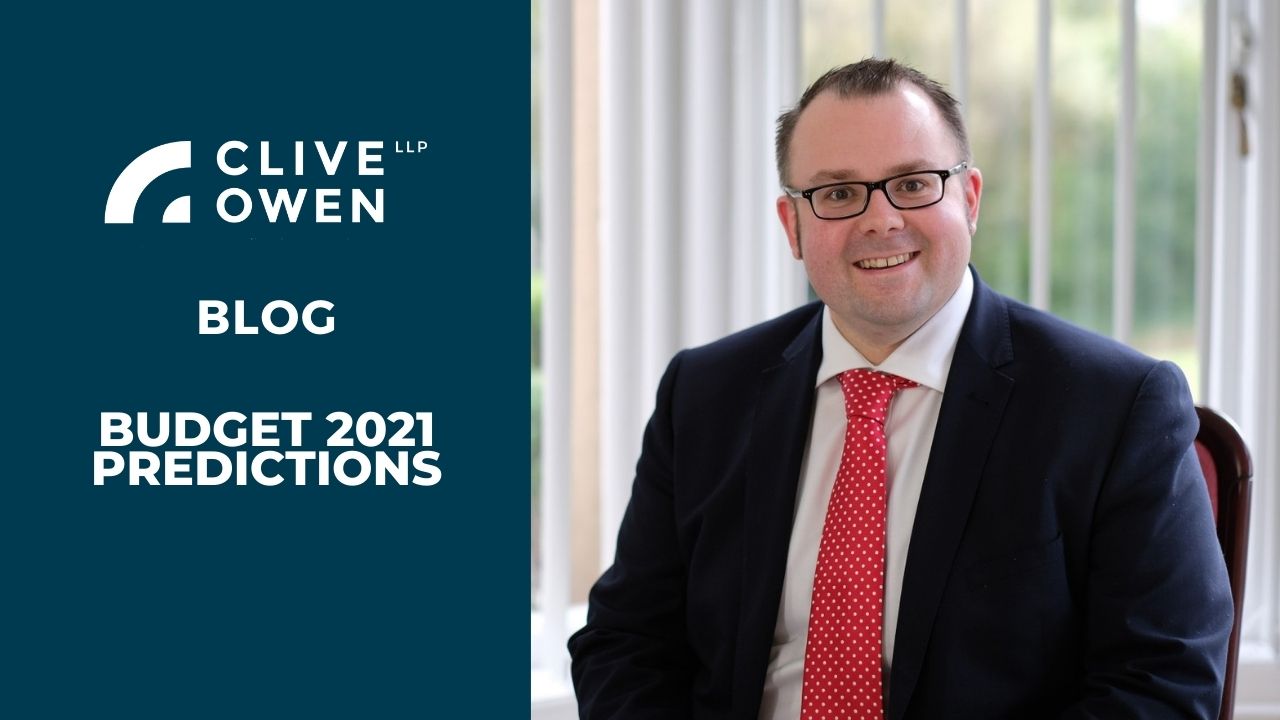 Date posted: 15th Feb 2021
When I was asked to write a blog for our thoughts on the upcoming Budget, I thought that I had an unenviable task. But the more that I thought about my blog, I realised it is the Chancellor who has the unenviable task.
Due to COVID-19, the country's deficit rose to over £270bn and it is believed that this is increasing as the UK is borrowing £1bn daily to keep the economy afloat. However, whilst the initial vaccine target has been met and things start to look more hopeful that lockdowns will be lifted, with new variants on the horizon we are not "out of the woods" yet. It does seem that tax rises are therefore unavoidable but there needs to be a balance between tax rises and encouraging consumer spending.
Capital taxes
It would not be a typical conservative approach to make the richest pay more tax, but this seems the most likely source of tax revenue in these unprecedented times. Rumours are abound regarding increases to the main capital taxes – capital gains tax and inheritance tax – or even the potential introduction of a "one-off" wealth tax are under consideration. That said, such one off taxes have been introduced throughout history, only to remain. For instance, I believe that the introduction of income tax was supposed to be "temporary measure" to cover the costs of the Napoleonic war and yet over two hundred years later, here we are, talking about taxation…..
Corporate taxes
I anticipate that we may see a rise to corporation tax – perhaps back to the tiered (sorry!) system where there were multiple rates of corporation tax and basically those companies with more profits, paid tax at a higher rate. Whilst this was quite painful for those of us in tax to work out, the Chancellor won't be too fussed about that.
Incidentally, for corporate capital gains, there still does remain some element of relief for inflation on the cost of investment assets such as plc shareholdings and properties. This relief was abolished over ten years ago for individuals and "paused" for companies in 2017. Again, this could be a target for abolishment, which means that corporate tax, on the sale of assets held for a significant period of time, could increase.
Landlords have been a recent source of increased taxation for the government. To reduce taxes, many landlords have looked to invest in properties via a limited company. This means that the government tax take from landlords has not been as high as anticipated. Could we therefore see a higher tax rate for those corporate landlords companies?
Income tax and national insurance
For years, there have been numerous suggestions that tax and national insurance would be merged into one system. Currently, the main "merged" rates of tax and national insurance are 32%, 42% and 47%. An increased "merged" rate of 35%, 45% and 50% sounds nice and simple to calculate….!
Every year, there are rumours abound that pension tax relief will be cut. The pensions tax relief spend, which is higher than the defence budget, is always a target but never quite considered due to the many different pension schemes we have in the UK. For instance, those working in the NHS and paying into the NHS superannuation, receive their tax relief at source as well as some national insurance relief. For those within the auto-enrolment scheme, the tax relief is reclaimed by the pension provider with no national insurance relief. And then there are those that take advantage of salary sacrifice schemes or possibly have retirement annuity policies……is it time for the nettle to be grasped?
Is it all doom and gloom?
Quite honestly, this is such a difficult Budget to attempt to predict as there has been nothing ordinary in the last year but tax rises seem inevitable.
However, there does need to be a balance between tax rises and reigniting the economy. Ways in which the chancellor could look to reignite the economy include reducing VAT (which of course is borne by individuals), increasing the rates of the corporate R&D relief to encourage spending on R&D (or perhaps introduce this relief for non-corporates?), permanently retaining the £1m annual investment allowance to encourage companies to continue to invest in plant and machinery or increase the venture capital reliefs (such as EIS/SEIS) to encourage wealthy individuals (ala Dragon's Den) to invest in relatively new companies.
We all wait with bated breath for the 3 March 2021…..
---