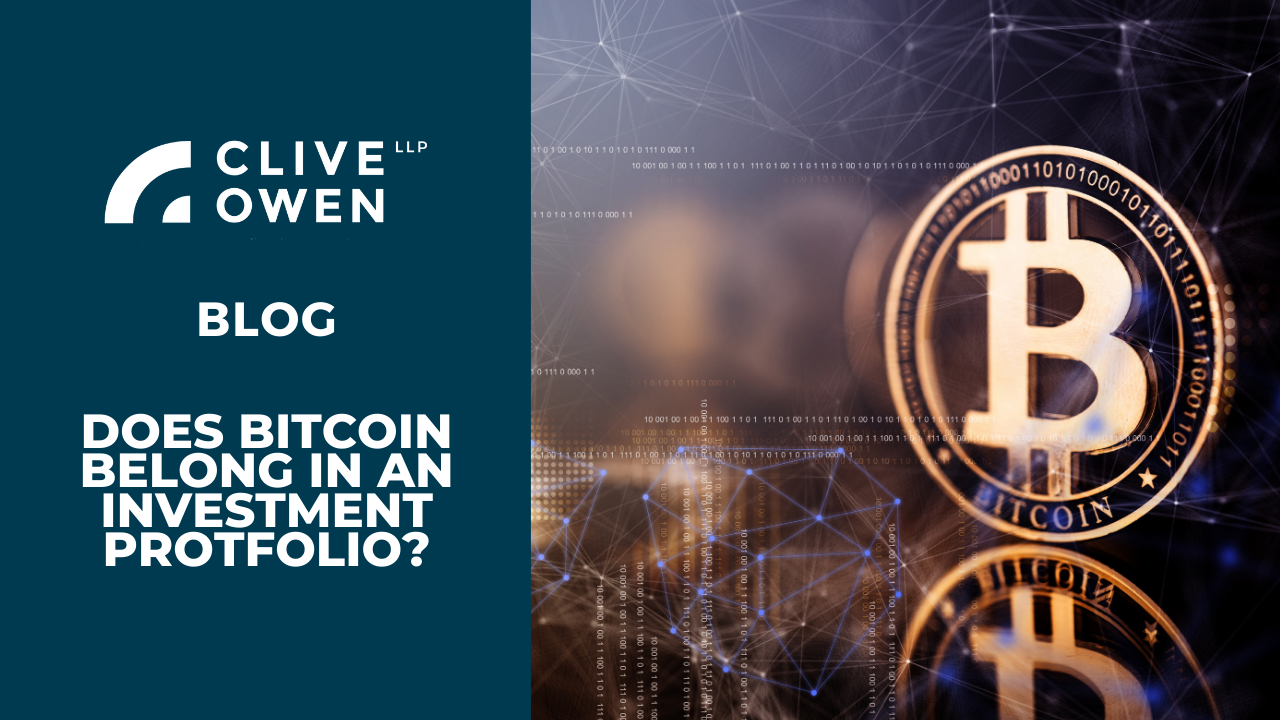 Date posted: 2nd Mar 2021
Given its spectacular rise and a recent all-time high of $51,000  Bitcoin has of late dominated the headlines providing a welcome break from COVID-19, Brexit and the disappointing football results and this unsurprisingly has led to more and more clients asking us about it and other cryptocurrencies.
In 2020, Bitcoin strengthen by +305% against the US dollar but this is actually far less than the gains we have seen in previous years, in 2017 it rose by +1375%  but even this is dwarfed the +5428% gain in 2013. But it is important to also remember that in 2018 it fell by -72%.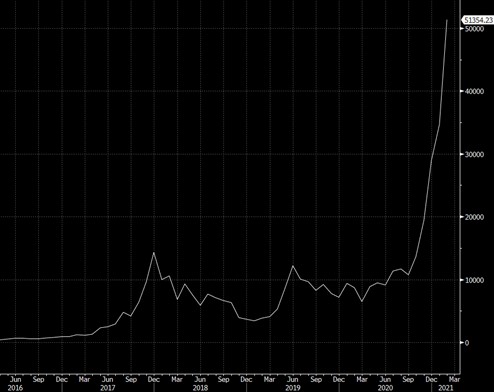 Source Bloomberg.: A graph of the price of Bitcoin as at 18/2/2021.
So with this return profile does Bitcoin form any part of our portfolios?
Without sounding like a party pooper the short answer is no. Bitcoin or any crypto-asset does not form part of our client portfolios. Central to our investment approach here at Tilney is to endeavor to avoid permanent loss of capital. Certain companies, sectors and assets classes are therefore, to us, uninvestable.
Bitcoin currently does not meet the characteristics that we look for when investing as it fails to meet any of the criteria we would set for security of open and transparent marketplace and regulation rendering it unsuitable for our client base. In fact at the start of the year the FCA issued guidance that prohibited firms from any form of marketing, distribution or sale of crypto-asset derivatives and crypto-asset exchange-traded notes in or from the UK to a retail client. This is all to protect retail clients from losing their entire investment in crypto-assets. Other countries such as Nigeria has banned any form of crypto trading.
As with any investments, the value of Bitcoin can go up or down and there is the risk of the permanent loss of capital. It is clear the regulators are worried of the latter for retail clients and have acted swiftly to protect them. The message is clear from the regulators that anyone investing in these assets must be prepared to lose all of their investment.
As an Investment Manager the risks and volatility associated with Bitcoin are far too extensive to expose any client's capital to, however, it is interesting to see Bitcoin compared to more traditional currencies such as US Dollars and Sterling. Typically we consider a currency to do the following three things:
fixed unit off accounting
store of value
a medium of exchange
Whilst it does not meet all of these three characteristics it is interesting to see that more and more companies are willing to accept Bitcoin as a form of payment. In fact recently, Tesla announced that it will soon start accepting the cryptocurrency as a form of payment which resulted in Bitcoin jumping +17% on the news.
However, from a consumer's viewpoint, it does raise some serious questions as to wherever or not it should be used as a method of payment. One day a Bitcoin could buy a brand new Tesla but I would not be surprised if the following day all the consumer could buy with a Bitcoin were the two front tyres of their dream Tesla, it's that volatile!
We have started to see more and more Hedge funds gain exposure to the cryptocurrency which does help explain the recent rally. Hedge funds by their nature are big risk-takers often placing 'bets' on an asset to generate a high level of return. If Bitcoin reaches their target I would not be surprised if these hedge funds take their profits and walk away causing Bitcoin to fall significantly. Do you want to be at the other end of that trade?
Overall, whilst it is fascinating to see how Bitcoin and other crypto- assets are shaking up the financial markets and dominating the news it's important to highlight the high level of risk that Bitcoin presents. As with any investment decision it's important to take a long-term time horizon when investing and not to try and make a quick profit as you can easily get your hands burnt and in the case of Bitcoin possibly lose the entire investment.
Matthew Burgess
Investment Manager
Email: Matthew.Burgess@tilney.co.uk
For further information about us go to www.tilney.co.uk
Issued by Tilney Investment Management Services Ltd, authorised and regulated by the Financial Conduct Authority. Investments go down as well as up and you may not get back the amount originally invested. Past performance is not an indication of future performance. This article is not a recommendation to take or refrain from taking any course of action. It is based on our opinions which may change If you are in doubt as to the suitability of an investment please contact one of our advisers.
---