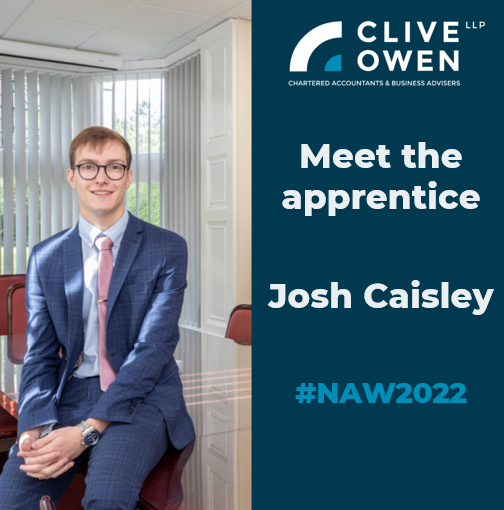 Date posted: 10th Feb 2022
As part of National Apprenticeship Week, we caught up with apprentice, Josh Caisley, to find out more about his role at Clive Owen LLP.
Q: What is your job title and a brief overview of what you do?
My job title is AAT Trainee (Audit & accounts junior).
My daily job consists of the preparation of year end accounts for a variety of clients from sole traders to FRS 102 1A accounting standard. I also assist with company academy audits.
Q: How long have you been at Clive Owen and how long is your apprenticeship?
I have been at Clive Owen for 1 year and 5 months, my apprenticeship will end when I have finished my Level 4 AAT exams.
Q: Why did you decide to do an apprenticeship? 
The 'on the job' experience is extremely helpful and gives you much more experience than a normal university course. It also gives me exemptions to quite a few of the ACA exams which I plan to complete once I have finished the  AAT qualification.
Q: What is your ultimate career goal?
I would like to become a chartered accountant and work my way up through a business where I am able to manage a team of my own, whether that be as a manager, director or partner.
Q: What do you like about working for Clive Owen?
I really enjoy the friendly people that I work with. As a team we organise events and teams outside the work environment, such as the football team (Do not ask about our position in the league). I also like that I am part of a large team with lots of different knowledge.
Q: A random fact about you….
I am a car man; I spend too much time fixing and cleaning my car.
Q: What do you like about working in the Darlington office?
I like the proximity to the town centre to be able to go into town with friends for food. This is also the largest of the Clive Owen offices, with lots going on and plenty of opportunities to learn. I also live in Darlington so it is a short commute for me.
Q: What did you want to be when you were younger?
I did have a time where I thought about going into engineering, but I always wanted to be in business/finance since secondary school when studying business studies and moved on to Economics in College where I decided that the finance sector was the right path for me.
---