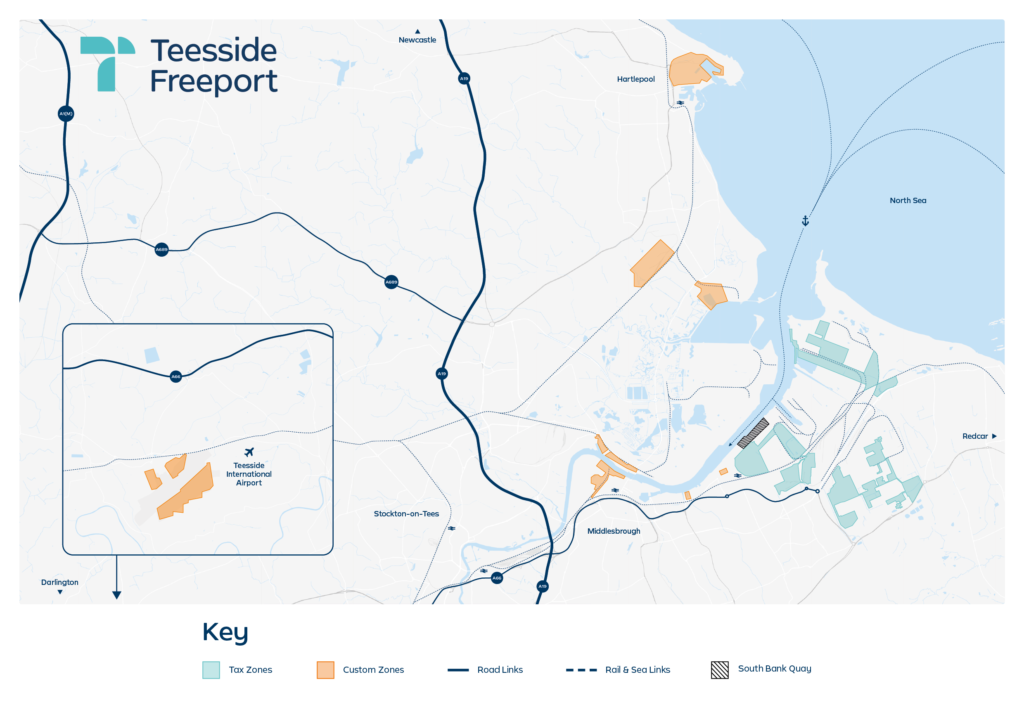 Image courtesy of Tees Valley Combined Authority
The Teesside Freeport will be unrivalled in size, connectivity and opportunity. It's now open, so what does that mean for you and your business?
Thinking of relocating to the Freeport? Click here to find out how we can help.
The Teeside Freeport will put the region at the forefront of green energy, manufacturing and innovation, with its location meaning that it is ideally placed to serve the offshore wind sector. Also, with its excellent transport links, it will be a gateway to global markets via air, sea, rail and road.
The Teesside Freeport, which is one of eight for the UK, is expected to bring benefits for business and the local economy that extend beyond the local region, including the potential to deliver up to 18,000 skilled jobs over the next five years. It has access to a share of £200 million of Government funding to support the region's levelling up ambitions.  It covers 4,500 acres in total and includes the Teesworks site, Wilton International, Teesside International Airport, Port of Middlesbrough, Port of Hartlepool and Tees Dock.
It is worth remembering that the economic benefits and opportunities will not just be limited to the Freeport itself, as it will have a significant dependence on supply chain businesses and a need for enhanced transport links and connectivity. The employment drive should also fuel housing development and social infrastructure to support this. It is anticipated to bring a £bn boost to the local economy.
The Freeport initiative is not a completely new concept for the UK, having been mentioned previously in various guises as a tool to facilitate trade and ease the impact of Brexit. The first sites to commence operating are Teesside, Humber and Thames and as these sites opened up for business, the government announced that it will legislate to introduce a free zone exit charge, a change to the previously announced VAT rules for Freeports.
So, what do you need to know about the Teesside Freeport?
What is a Freeport?
Freeports are specific geographical areas designated as secure customs zones where, from a VAT and duty perspective, any business carried out is effectively considered as outside the borders of the UK. Basically, it means that different customs rules apply.
They are usually located near ports or airports and operate with the objective of providing relief from import taxes and duties, reducing administrative burdens and tariff controls and easing tax and planning regulations.
The government's plan is to incentivise businesses to locate the manufacturing and processing of imported goods within Freeports.
What are the key benefits of Freeports?
Within a Freeport, businesses can defer the payment of taxes until their products are moved elsewhere. They can even avoid them altogether if they are able to bring in goods to manufacture on site or to store, before re-exporting them.
The key benefits therefore are:
duty suspensions on goods and simplified customs procedures.
a package of tax benefits to help drive innovation, growth, and jobs.
What Customs benefits are available?
Businesses operating within Freeport customs sites will receive tariff benefits, including duty deferral while the goods remain on site. They will also benefit from duty inversion if the finished goods leaving the Freeport are subject to a lower tariff than their constituent parts.
Businesses operating within Freeports also enjoy the benefits of simplified import procedures and suspended import VAT on goods entering the Freeport.
Finally, businesses can benefit from customs duty exemption on goods that are imported into a Freeport, processed into finished goods and subsequently re-exported, subject to the UK's existing trade agreements.
What tax incentives are available?
There are also some tax advantages available to businesses who invest within Teesside Freeport. This Freeport acts as an enhanced economic zone  which enables business to be carried out within a country's land border, but with different tax and customs rules applying.
Some of the other benefits include;
Business Rates Relief
Some business premises within the Freeport tax site will benefit from up to 100% business rates relief for a five year period. This is available to businesses which relocate to the Freeport between 1 October 2021 and 30 September 2026. The relief runs for five years from the date of relocation.
Enhanced Capital Allowances
There is enhanced tax relief available for companies who invest in qualifying new plant and machinery assets which will allow firms to reduce their taxable profits by the full cost of the qualifying investment. This accelerated relief is intended to allow firms to benefit within the same tax period as the cost was incurred. The 100% relief can be pro-rated for assets that are used outside of the Freeport for a proportion of the time in use.
Enhanced Structures and Buildings Allowance
Businesses can benefit from an enhanced rate of Structures and Buildings Allowance on the construction or renovation of non-residential structures and buildings in the Freeport. The usual 3% rate is uplifted to 10% for buildings brought into commercial use by 30 September 2026.
Exemption from Stamp Duty Land Tax
There is an exemption from SDLT in respect of purchases of land and buildings for commercial use where the land is at least 90% in the Freeport. There is pro-rata relief for land which is between 10% and 90% in the Freeport. The relief is available to owner occupiers, developers and landlords.
Employer National Insurance Contributions Rate Relief
Businesses operating in the Freeport tax site will pay 0% National Insurance Contributions for up to the three years per employee on earnings up to a £25,000 per annum. Employees must spend at least 60% of their working hours in the Freeport. The relief will apply for employees commencing work on or after 6 April 2022 and will last until at least 5 April 2026. Employees must not have worked for the employer for at least two years before starting work.
If you have any queries at all in relation to Freeport's don't hesitate to contact our team here.
Thinking of relocating to the Freeport? Click here. to contact us to discuss your needs.
Further information on the Teesside Freeport is available from the Tees Valley Combined Authority here:
https://www.teesinvest.com/why-tees-valley/teesside-freeport/
The information which is summarised herein does not constitute professional advice and is general in nature.
Read more about International Business here:

Kreston Global is a network of 22,000 people in 170 independent accounting firms across more than 120 countries. Founded 50 years ago, their aim remains to help businesses and people succeed internationally.
Kreston Global offers reliable and convenient access to high-quality services through member firms located around the globe and is currently ranked as the 13th largest accounting association in the world.
This global network can be of huge value to our clients who can benefit from enhanced research coverage, local market knowledge, and cross-border professional expertise.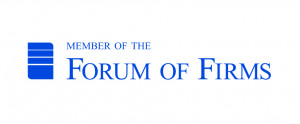 We are also members of the Forum of Firms, an association of international networks of accounting firms that promotes consistent and high-quality standards of financial reporting and auditing practice, offering peace of mind, should you need this service.