What can you expect if you work for us?
Most importantly we want you to have a successful rewarding career with us.
---
We offer fully funded career support and training to help you to become the best version of you. To compliment this our unique, Aspire training programme offers further learning and development opportunities to empower you to learn, grow and thrive.
We also offer home working, flexible working and our innovative 9-day fortnight to allow you to work around family or study commitments, making the most of your time and supporting your work life balance.
As a growing, independent firm we are able to treat everyone as an individual, putting wellbeing and fun at the heart of what we do. We have a social committee at each office and there is always something to join in with.
---
We offer a range of additional benefits, including: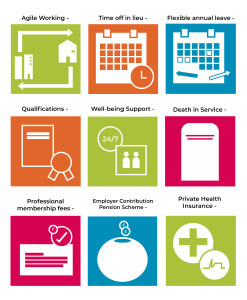 Agile Working – hybrid working, Nine Day Fortnight, Flexible Working
Time off in lieu – up to and including Assistant Managers can claim additional time worked above their contracted hours
Employer Contribution Pension Scheme – starting at 4% and matched up to 5%. Can be done as salary sacrifice to earn 50% of employer's national insurance savings
Death in Service – insured benefit available to colleagues in the pension scheme up to the age of 75.*
Flexible annual leave – buy up to 5 days holiday per year through a salary sacrifice scheme.
Private Health Insurance – available through Vitality, to be paid directly by employees at a discounted rate
Professional membership fees – full financial reimbursement for professional subscriptions, including student membership
Qualifications – full financial support for all qualification
Well-being Support –employee Assistance Programme available 24/7. A Well-being Support Team is available to provide support. Financial Well-being support is available from HSBC. Kaido is a health and well-being app
Plus we also offer:
Cycle to work scheme
Save on tax and national insurance contributions on buying a bike through a salary sacrifice scheme over 12 months
Expensed flu jabs and eye tests
Talent Referral bonus
For eligible colleagues receive up to £3000 on successful candidate referral.*
Vounteer day
We give you a full day paid leave for voluntary and charitable activities and paid time to give blood.
Long service awards
A financial reward and an extra days holiday for various long service milestones. Plus, we offer additional holidays. Minimum of 22 days holiday plus bank holidays, rising to 25 days after 5 years. Managers and above get 25 days holiday plus bank holidays, rising to 27 days after 5 years
Fully supported training and CPD
Continuous support to develop soft skills and technical knowledge to enhance personal development and career progression
16- 25 Railcard
The firm will pay for a railcard for eligible trainees travelling to Kaplan. The railcard can be used for personal travel.*
Perkbox
Discounts on shopping, eating out, cinema, gym membership and much more.
Dress for your day Fridays
Colleagues can wear casual clothes every Friday depending on their diary.
Free tea & coffee
There is free tea and coffee at each office.
*Conditions apply