All businesses are being targeted and compromised by cyber-criminals, are your systems secure?
Security is has never been as important as it is today. With the new GDPR regulations you could be a risk if you do not take the threat seriously.
We can offer you a range of business security software and protection, we also work closely with accredited partners to ensure we have the most up to date software available to offer you that protection.
Endpoint Protection – ESET Partners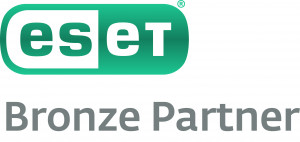 Over 25 years of AV industry innovation gives your company multi-layered protection with ESET. Protect your Endpoints without compromising on network or individual system speed and stability. Monitor your networks security status and enable customised notifications to inform you of designated events or critical thresholds being reached. Conserve company bandwidth and block access to non-work websites with our Data Access Control module. Defend against breaches with our two-way firewall, with a full learning mode to intelligently block threats without producing false positives and slowing workflow.
Email server protection
Your company's email server is a vital hub for productivity – and also an appealing attack surface for malware, phishing scams and spam. Protecting your email is one of the most important aspects of computer security. As cybercriminals' methods become increasingly sophisticated, safeguarding your mail server becomes a crucial component to your company-wide security protocols.
ESET Mail Security for Microsoft Exchange Server blocks all types of email-borne malware and spam. It scans your email traffic with industry-leading precision, low system footprint and high scanning speed – so slowdowns will be a thing of the past. Encryption and Information Security.
Mobile devices
Keep your smartphones, laptops and tablets secure.
Whether they're company issued or personal devices, chances are they're being used for work. You have to secure your mobile devices and keep the sensitive business data on them safe.
We can help make it easy for you to give mobile workers all the apps they need and still enforce a consistent security policy for smartphones and tablets. We'll let you control their security features and even remotely lock or wipe the devices if they get lost.
Bring your own device (BYOD)
Your staff bringing their own devices to work, such as laptops and mobiles may have its advantages, but it also carries risks. The onus is on you and not the employee to ensure that data remains safe and protected. When implemented properly BYOD can reduce cost yet increase productivity and revenue.
For more information on all of the products above – give us a call.
Clive Owen Technology Services – Keeping your data and systems safe and secure.
More: