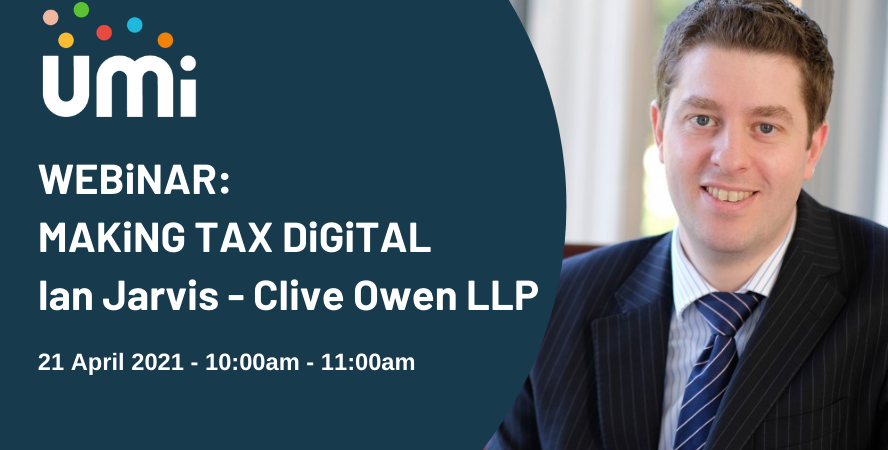 Event date: 21st Apr 2021
TIME: 10:00 - 11:00 am
LOCATION: Online
BOOK NOW
On Wednesday 21 April, Ian Jarvis, Managed Services Partner at Clive Owen LLP, will be chatting to UMi to discuss what businesses need to do to prepare for tax going digital.
From the 1 April 2022, Making Tax Digital (MTD) for VAT will apply to all VAT registered businesses regardless of the level of turnover. The first VAT period to which MTD applies to all VAT registered businesses (who are not already doing so) will be the one commencing on or after 1 April 2022.
In Tuesday's live webinar, which will take place between 10am-11am, Ian will cover HMRC's advances and latest position with regards to Making Tax Digital.
He will show HMRC's direction of travel to modernise the existing tax system, which they are implementing with the aim of making the whole process of administrating tax simpler and more efficient. He will demonstrate their proposed road map for change and discuss how it could look in the future.
Ian will also show how this could impact your business, the systems and processes you currently use and how small tweaks can have positive impacts in preparing for the changes to come.
He will give some real-life examples of how his business has supported its clients positively through the changes and the benefits they have experienced to date.
At the end of the webinar, there will be an opportunity for any attendees to put their questions forward to Ian.
This webinar is completely free of charge, and a great way to make sure you're prepared for Making Tax Digital.
BOOK NOW