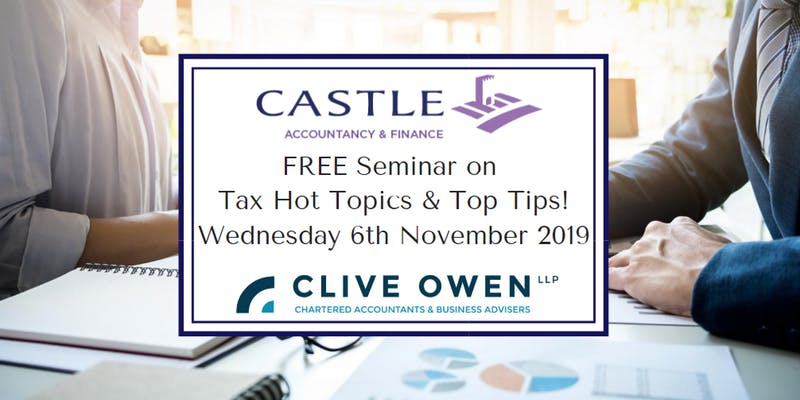 Event date: 6th Nov 2019
TIME: 8:00am - 10:00am
LOCATION: Sandburn Hall, Flaxton, York, YO60 7RB
Clive Owen LLP, Chartered Accountants and Business Advisers are delighted to be working in partnership with Castle Accountancy & Finance deliver this informative Breakfast Seminar with practical actions and insights that could help improve the performance of your business.
'Tax – Hot Topics & Top Tips!'
Wednesday 6th November 2019
8:00am – 10:00am
Sandburn Hall, Flaxton, York, YO60 7RB
Light breakfast and refreshments will be provided
Limited spaces available!
The Seminar will be delivered by Rosemary Anderson, Tax Partner at Clive Owen LLP, Chartered Accountants and Business Advisers and leading specialist in tax for SME businesses. Rosemary will give an overview of the current hot topics relating to tax for businesses.
She will also touch on a few top tips and actions that may help your business performance.
The seminar will cover:
Deadlines to be aware of and why tax planning can improve your business performance.
Understanding off-payroll working (IR35)
A brief overview of off-payroll working rules for clients, workers and their intermediaries. This will include the current position and how businesses may be impacted by the change of legislation to be introduced in April 2020.
Research and Development (R&D) Tax Credits
This valuable government incentive is designed to reward UK companies for investing in innovation. Rosemary will cover who qualifies, how to apply and why R&D tax credits can help your business grow.
A brief overview of the current position and the next steps such as Open Banking.