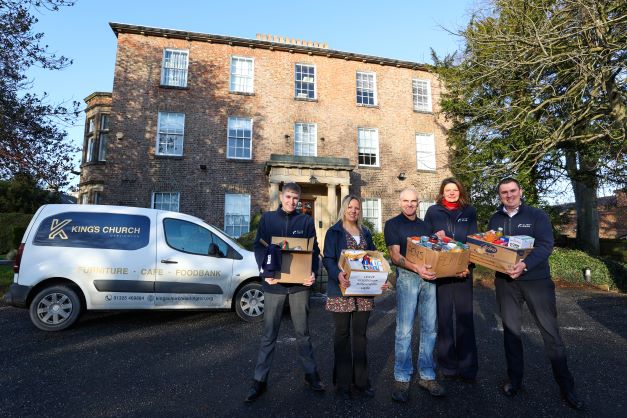 Date posted: 16th Dec 2022
Generous staff from Clive Owen LLP in Darlington have been spreading some Christmas cheer by supporting a local organisation helping people struggling with the cost-of-living crisis.
Marketing assistant, Elliot Pole and managed services manager, Maria Perek who both work at the firm organised the initiative to support those in the local community who are struggling at this difficult time. The chartered accountants and business advisers have held a collection for King's Food Bank after approaching it to find out what was most needed.
The foodbank said, as well as food it welcomes donations of new hats and gloves, in a variety of sizes, would help those struggling to keep warm amid spiralling energy prices.
A cash contribution has also been made to the Food Bank, based in Prospect Place, off Whessoe Road, from the profits of the regular tuckshop run by senior manager, Elizabeth Layfield at Clive Owen's Darlington office and money raised by senior manager James Davies as part of his Movember initiative, where men grow a moustache to bring money in for good causes.
Carl Wright, who is head of grants and transaction advisory services for the firm and heads up their sustainability programme, said: "Clive Owen prides itself on supporting good causes in the wider community and everyone rallied round to collect a wide range of food stuffs, Christmas treats and winter warmers for King's Food Bank.
"The Food Bank does an incredible job and makes a real difference by helping vulnerable members of the community in times of need.
"The valuable role it plays in the life of the town is even more important than ever during the current cost of living crisis."
Food Bank manager Caroline Todd said: "We are indebted to local people and community-focused businesses, like Clive Owen LLP, for their kindness and generosity.
"These donations of food and money from staff at Clive Owen LLP will make a big difference to local families, children, and individuals, who are facing a heating and eating crisis.
"We are always grateful for the donations that we receive, especially non-perishables such as – baked beans, soup, UHT milk, tinned meats/fruit and pasta or rice, which help us make up a well-balanced bag of food."
The food bank is open Monday, Wednesday, and Friday between 1pm – 3pm, although staff are there Monday to Friday from 9am to 5pm for support services and referrals.
​For more information visit https://www.kingschurchdarlington.org/foodbank
---