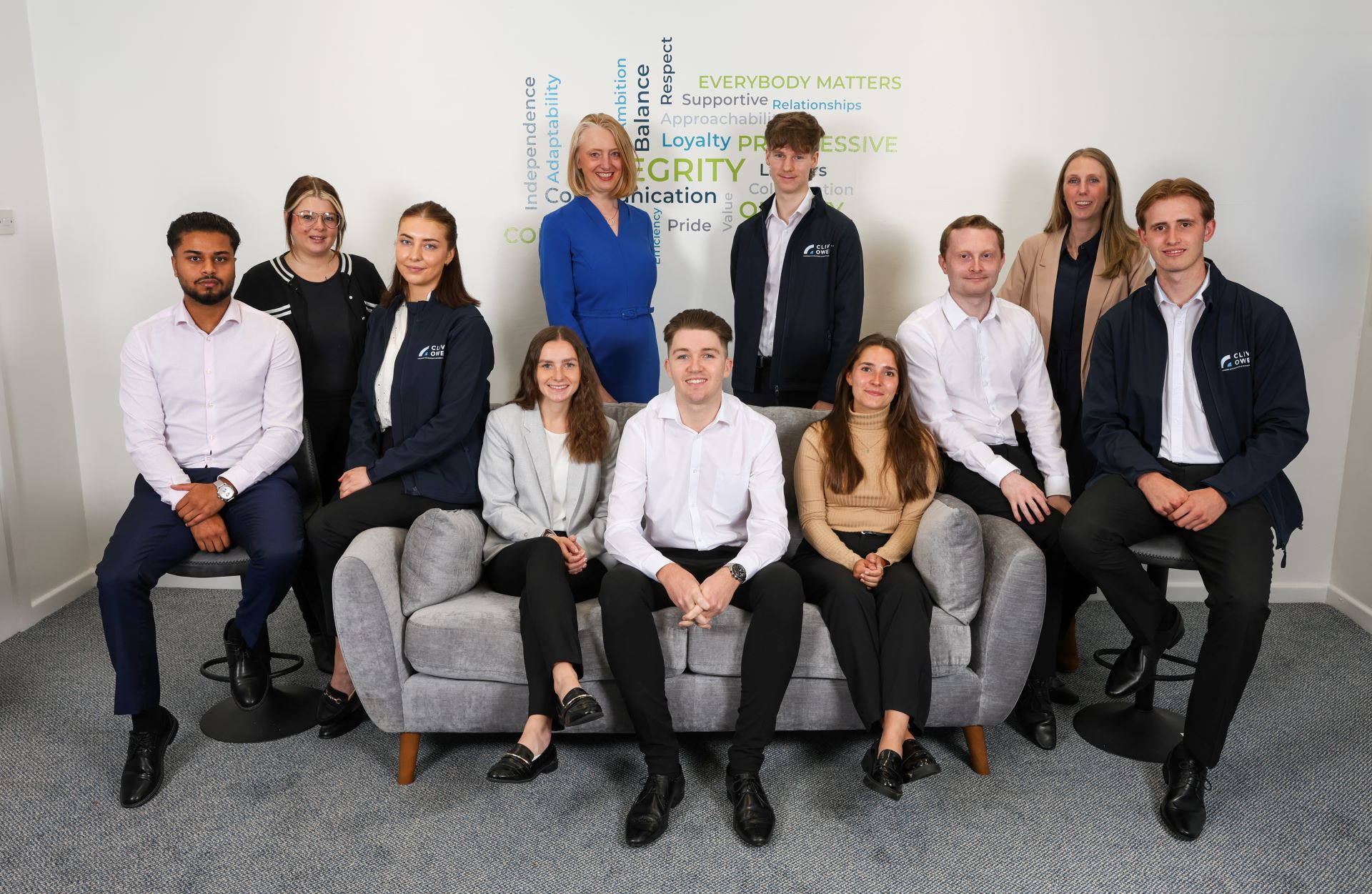 Date posted: 14th Aug 2023
Leading chartered accountants and business advisers Clive Owen LLP has recruited seven new colleagues furthering its year-on-year growth.
The firm, which has offices in Darlington, York, Durham and Middlesbrough, has seen a 9% growth in its team over the last year to 134 colleagues, and is now one of the largest independent firms in the north of England. The new cohort will support the established audit and accounts team across the Darlington, Durham and Middlesbrough offices.
The new starters, who are all in the early stages of their careers, having either graduated from university or college or even changed career paths, will have an allocated 'buddy' to help them settle into their new role and provide ongoing support.
Clive Owen LLP also champions the importance of 'earn and learn' roles and has been accredited with gold membership by the prestigious 5% Club, which recognises the fact that 37% of its colleagues are currently undertaking training.
Nicola Bellerby, training partner, said "I am delighted to welcome our new recruits, and am looking forward to seeing them flourish and thrive. We are proud that our trainee programme has been running for more than 20 years now. Many of our senior colleagues started as trainees and have grown along with the business, some of them becoming partners."
Audit and accounts senior, Declan Smith, who has been with the firm for three years and started on the graduate intake, will now act as a buddy for this group and said, "I am looking forward to providing support to the new starters as they begin their careers with us. It can be a daunting experience starting a new role, so I hope to be able to help them enjoy a smooth transition from the study environment into the world of work."
Looking to the future, the firm is recommencing offering work placements within the audit and accounts department for the first time since COVID to support people looking to get into the accountancy sector. This will offer the opportunity to gain valuable work experience, working alongside a team of colleagues and with a diverse range of clients.
Clive Owen LLP has recently expanded its offering and headcount across a range of services including a large tax team, grants and advisory, managed services and audit.
All colleagues benefit from Clive Owen's bespoke training programme, Aspire. The Aspire programme covers both technical professional training and personal growth and development. It has four pillars of learning which can assist colleagues at different career stages and also encourages soft skills such as self-awareness and being able to motivate and inspire others.
Clive Owen LLP's new recruits are:
Ruth Barnes
Ben Curtis
Rebecca Hutton
Abdallah Gendoo
Curtis Bartholomew
Holly Wentworth
Oliver Wildmore
If you would like to apply for the 2024 Graduate intake, click here!
---