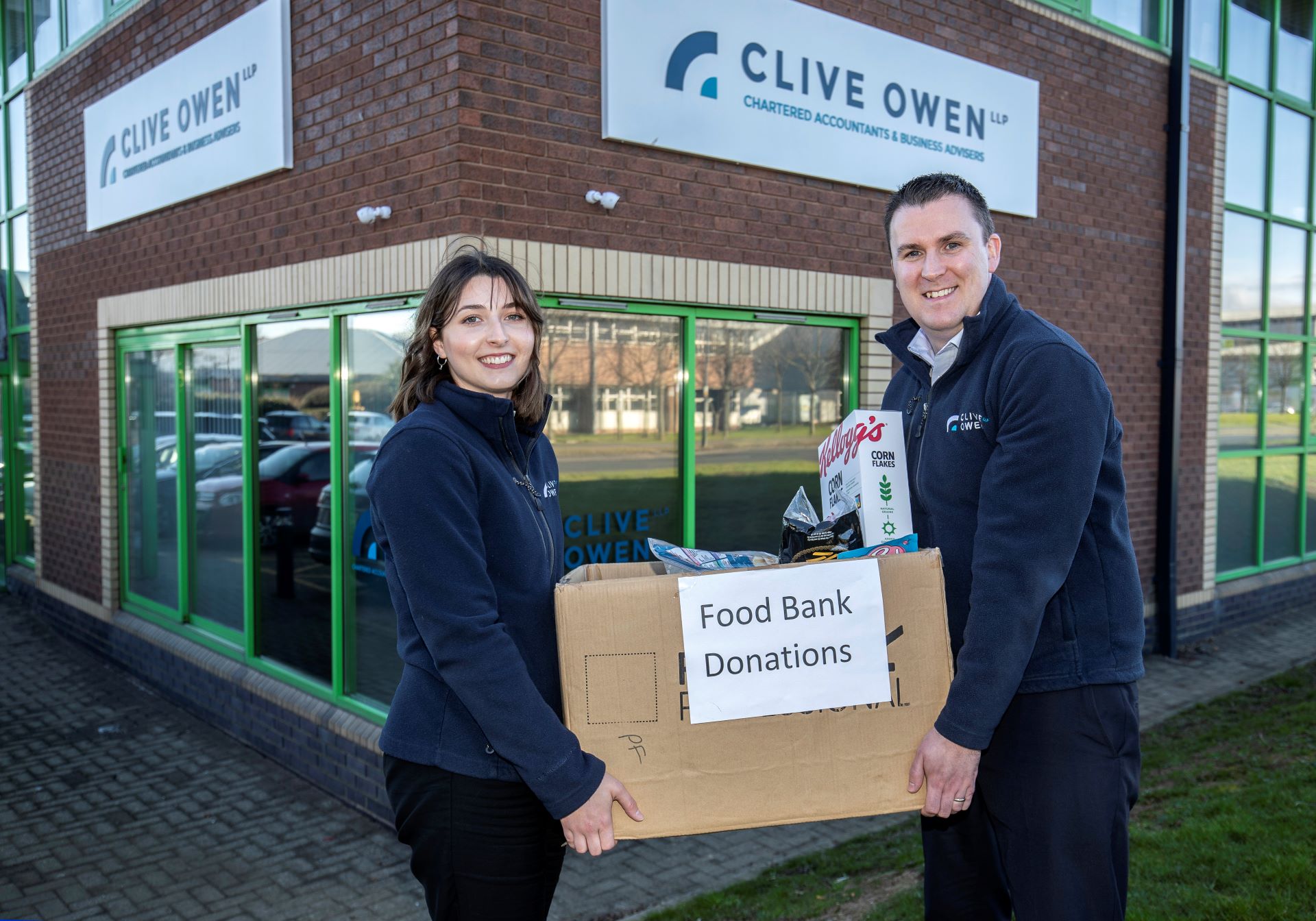 Date posted: 28th Feb 2023
Clive Owen LLP, chartered accountants and business advisers, has facilitated a drop off point for staff to donate much-needed food items for Middlesbrough Foodbank.
Organised by Yana Jones-Hinkley, a senior associate at the firm, which is based at Stephenson House on Riverside Park Industrial Estate will help to support the Foodbank in its work with people in the town struggling with the cost of living.
Middlesbrough Foodbank, which is part of the Trussell Trust network, is a project founded by local churches and community groups, working together towards stopping hunger in the local area. It works with a number of local agencies, charities, housing associations, schools, health workers, children's centres and Middlesbrough Council, who are able to issue a client with a voucher.
More than 37,000 children are living below the breadline in Teesside according to the most recent Government figures. In some areas of Middlesbrough, this can be as high as 69% of children.
In 2022, Middlesbrough Foodbank fed more than 10,000 people and gave emergency parcels of food to people in crisis every week.  Demand shows little sign of abating with the cost-of-living crisis forcing working people to foodbanks to feed themselves and their families.
Yana Jones-Hinkley, a senior associate at Clive Owen LLP said: "I am part of a working party in the firm helping to develop our sustainability and CSR credentials. Supporting foodbanks locally is very much aligned with our values as a firm and Clive Owen LLP empowers us to support initiatives that help the wider community. I'm so pleased that we can do a little to help Middlesbrough Foodbank in the critical work it does in the area.
Carl Wright, head of grants and transaction advisory services for the firm and who is leading their sustainability agenda, said: "We are very proud of Yana and her colleagues in Middlesbrough for facilitating this much-need collection for the Foodbank
"Sadly, Foodbank use is still vitally important for many families and if we can help in some small way then it is important that we do."
Tracey Godfrey-Harrison, project manager, Middlesbrough Foodbank said: "Our distribution centres are getting busier each week, people are really struggling with the cost-of-living increase and making sure they have gas and electric.
"Last year we fed over 10,000 people and we gave out more emergency boxes to our referral agencies to help people in need.  We really do rely on help from the general public.  Thanks to the Clive Owen LLP team for their support."
---