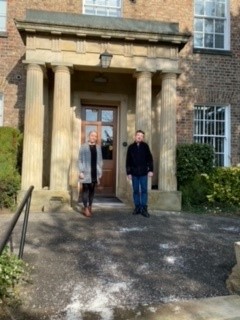 Date posted: 17th Mar 2022
In February, we welcomed two new starters, Jake Turnbull in our IT team and Holly Streatfield who joined our audit department.
Holly recently moved from Cumbria to Darlington, we assume for better weather! Holly joined as a part qualified, trainee chartered accountant who is looking to progress in her career and gain audit experience.
Jake has joined our Information Technology department, Jake had a number of part time jobs before joining the firm, he now works as part of a talented, close knit group and he is looking forward to interacting with some more of our clients and expanding his knowledge.
What is your job role at Clive Owen?
J: IT Support Technician
H: Trainee Chartered Accountant.
Which team do you work in and where are you based?
J: IT Team – Darlo's Information Technology department
H: I work as part of the Audit & Accounts team based in the Darlington office.
How have you found working in the Darlington office?
J: It's a massive building! I'm still trying to find my way around it, but everyone is friendly and looks after you, so I've settled in quick
H: It has been great so far. I'm enjoying being so close to the town centre, and it's a nice short commute for me so a win-win. A big fan of the free parking on site too!
What have you enjoyed about your first month at Clive Owen?
J: I'm working with a great team feels like I've known them way longer than I've been here really helped get rid of those first day nerves
H: All the staff have been amazingly welcoming to me, freely offering their assistance and helping me out with any questions I've had. They've also been inviting me along on their lunchtime walks and helped point out some good places to eat in the town, always a bonus!
What are you looking forward to in the next 6 months of working at Clive Owen?
J: Starting some more of my training and the chance to get out and meet more of our clients and just getting stuck in more with our operations.
H: I am looking forward to getting involved in some Academy Audit work and generally widening my knowledge. The firm are also planning to walk Helvellyn in May this year which I have put myself down for and which should be a great experience.
Is there anything funny you have overheard in the workplace yet?
J: I'm really bad for getting my tongue twisted so I've probably told half the office to give me a second while I put my teeth in at least once
H: I have only recently moved to Darlington from Cumbria so have been enjoying learning the regional lingo – My colleagues couldn't believe I didn't know what a Parmo was, and I've found out that what I call squash is actually 'dilutey'!
Are you interested in opportunities at our growing firm? Click here to check out our vacancies or visit our benefits page to find out what its like to work at Clive Owen.
---